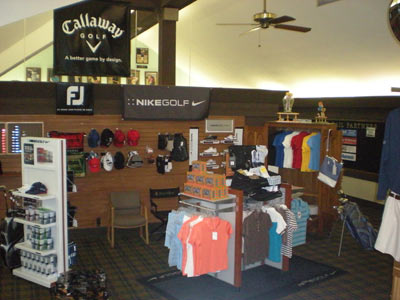 The spacious golf shop offers players equipment, apparel, and special items to fit every players needs. We carry a full line of equipment featuring Nike Golf, Titleist, Ping and Callaway. Any equipment can be special ordered. The men's and women's apparel & footwear line is filled with Nike Golf, FootJoy, and Cutter & Buck. We would be happy to special order any items that we do not carry in stock.
Gift cards are avaliable for purchase in the Golf Shop or in the online store for any amount whether as a gift or for tournament prizes. Logo Balls are available for any event at the best price in town. For any questions, please feel free to contact The Rail Golf Course @ (217) 525-0365.
Are you interested in joining the team of Springfield's Finest & Friendliest? Apply today! Please click the link below and email your application to the email for Jim Johnson (listed on the application).
Club Policies:
Tee time reservations for foursomes can be made up to ten (10) days in advance
Guaranteed tee times before 4:00 Friday, Saturday, Sunday & Holidays must be made with your credit card, name address and phone number.
Guaranteeing tee times means you are expected to pay for any "no show" player(s) at tee time using credit card, cash, or greens fee coupons.
Any guaranteed tee time reservation which is not cancelled at least 24 hours prior to said tee time will be charged against said guarantor's credit card if the tee time is not sold to another foursome.
Soft spikes required.
No person or group is allowed to bring any food or beverage onto the premises.
We provide coolers at a refundable deposit of $5.00.
Rain checks will only be issued if the course is deemed unplayable by the course superintendent, in the amount of the value of your unplayed holes for greens and/or golf car fees at a cash rate or ticket rate, whichever is applicable.
Dress code is in effect. Shirts must be worn at all times. No tank tops, cut-off shorts, tube tops, or halter tops.